Technology Information For CHSC Staff @ CHEC

If you are a Coffs Harbour Senior College staff member, this is the information about technology on-campus.
CHSC Staff at Coffs Harbour Education Campus (CHEC) has access to two Technology Service Desks, CHEC and DoE.

Which Service Desk?
If you aren't sure which Service Desk to contact please contact, the CHEC Service Desk first, we'll provide as much support as we can however some systems only DoE can assist with.
If you've contacted either Service Desk, you'll receive an automated email with a ticket number for future contact about this particular issue. TS-xxxxx is for the CHEC Service Desk
CHEC Technology Service Desk
Face To Face, Phone & Email Support Contact Information & Hours


Would you like to chat with us?
This box will appear at the bottom right-hand corner of the window


WebChat Hours: Monday to Friday (9am to 5pm)
Help us help you; please mention who you work/study for
AV Support (not desktop video conferencing)
CHEC Labs - Accounts, Printing, Software & Hardware
Hardware Support

W, S or P Drive Access

Network Support (including WiFi)

Print/Scan/Copy - Account, Printer Queue Setup/Maintenance, MFD Issues
Phones Desk (Huawei)
Software Support - troubleshooting error message (except DoE Corporate Systems)
DoE Technology Service Desk (State-Wide)
DoE Login
Email
Corporate Apps
Contact DoE Technology Services (EDConnect) on 1300 32 32 32 (choose option 5 for IT)/1800 338 483 or EDConnect Portal
Specific School Help
The Head Teacher for TAS (Chris Webb) also provides support for the following:
Sentral
ClickView
Stile
One Drive/Sharepoint Access
Allocation of CHSC Technology Assets
There are two main computer accounts you require to be able to login (they have SEPARATE usernames/passwords):

DoE Account

Email, WiFi and all DoE websites/systems

e.g. john.smithville1 or john.smithville1@det.nsw.edu.au


Stile, Sentral, Staff Portal

Create automatically once HR has processed your employment contract

Contact DoE Technology Services (

EDConnect) on 1300 32 32 32 (choose option 5 for IT)/1

800 338 483

or EDConnect Portal



CHEC Staff Account

First login campus computers

The account that provides access to the CHEC Print/Copy/Scan facilities and servers

BYOD WiFi - 2nd login opening a browser then logging onto http://detnsw.net
Created on request from Vice Principal, Executive Admin Officer or TAS Head Teacher

Contact CHEC Service Desk

There is also an additional account that is completely separate and is for the CHEC Facilities System to lodge maintenance requests, login with your staff email address and password.

The Coffs Harbour Education Campus has a range of AV setups in rooms, from projectors, IWB to video conferencing.
It's highly recommended that you check the room facilities before teaching/presenting.
For some Av Hints @ CHEC
AV Support
Some rooms have a phone to call the Service Desk for AV support, if not please contact the CHEC Service Desk
If you have an event that requires AV support you can book at the same time you book the room(s) via CHEC Room Bookings; CHEC Facilities System, chec.roombook@tafensw.edu.au or 0266593093.
To access the print/copy/scan facilities, you'll need an account (CHSC Staff Account) and CHSC Staff ID card. See How To Access Print/Copy/Scan Facilities @ CHEC
From a CHSC owned asset print to the "FollowYou - Staff CHEC" printer queue. Jobs can be released at any of the 30+ locations on campus and will stay in the queue for 3 hours.
HINT
We recommend if printing large documents or large quantities to print to the "Follow You - Staff CHEC Large Print Jobs" queue
More Information
Instructions are also available at the print/copy/scan locations.
You have access to multiple places to store your files, this is a summary of where you should;


What
Purpose
Accessible
One Drive
Your files on your office computer (syncs with the Cloud)
Anywhere with an Internet connection
Sharepoint
Your section shared files (Cloud-Based)
Anywhere with an Internet connection

W Drive - CHEC Staff Shared Work

Some sections are CHEC use this to share materials between staff

Previously section sharing space (now on Sharepoint)

Office computer connected to CHEC network

CHEC Lab Computer

S Drive (Labs) - CHEC Student Shared Work

To store materials for students classes

Office computer connected to CHEC network

CHEC Lab Computer

P Drive
Backup location for your files, space ranges from 5GB, 10GB, 20GB

Office computer connected to CHEC network

CHEC Lab Computer
REMINDER: USB and External Hard Drives are only to be used as a backup location (second copy) or a temporary transfer method.
To find out where the computers are located, what hours they are available, booking and software installed, please visit CHEC Computer Labs


Sign In

Step 1: Click anywhere on the screen
Step 2: Type in your CHEC Staff Account details staff\username

Step 3: Click on the arrow button
Step 4: Click on Search, type anything
Step 5: Login to proxy firstname.lastnameX@det.nsw.edu.au and your DoE password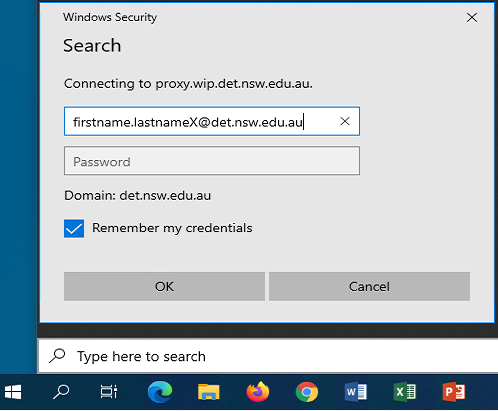 You can now use any application and web browser on this computer.
Troubleshooting


If you can't browse the internet then the saved credentials need to be removed and re-added. Also if you are only getting some websites but not all ensure you've used @det.nsw.edu.au and not @detnsw
Follow these steps;
Click on the Start button type in Credential Manager
Click on Windows Credentials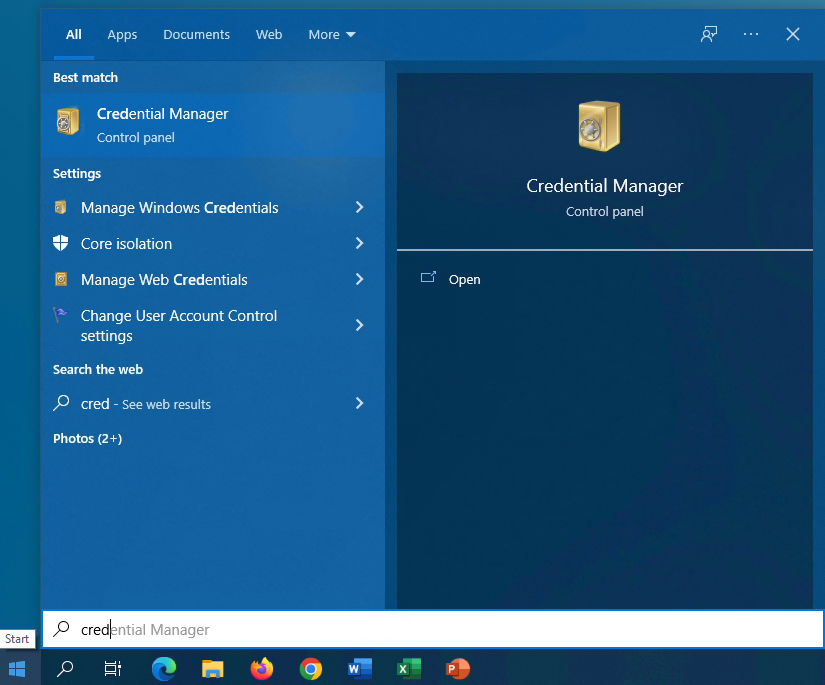 Select the item that says proxy.wip.det.nsw.edu.au
Click on Remove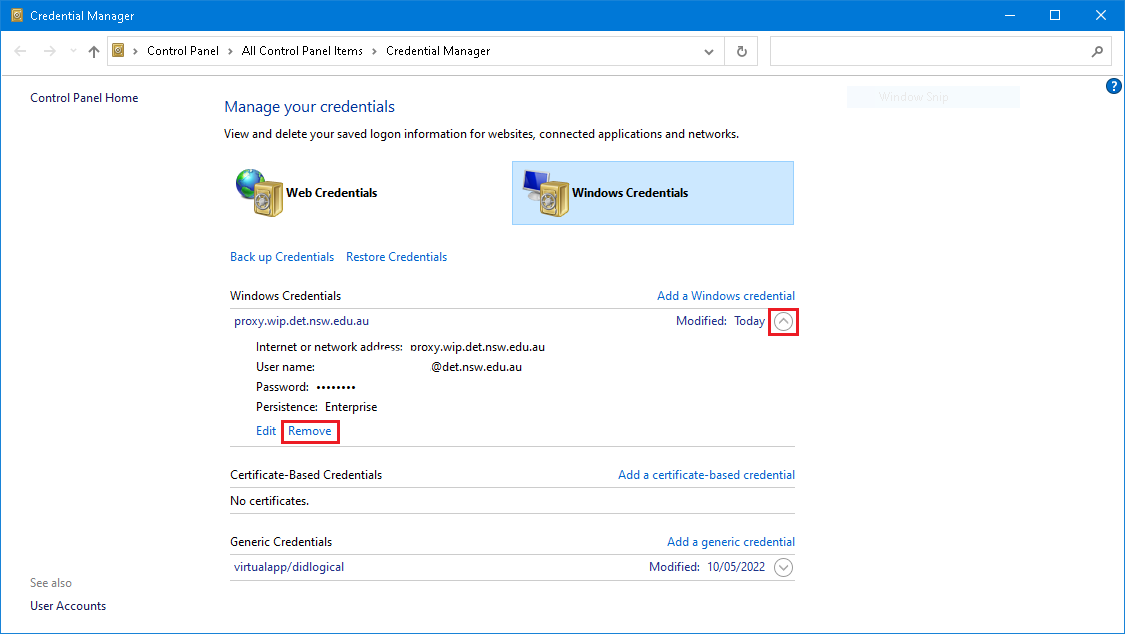 Click on Yes
Sign Out
Login and re-add the authenticate (see above)
Where & what equipment can I borrow?
Please note Technology Services doesn't have any spare computers. The laptops from the Student Learning Centre are more setup for students, however does have Microsoft Office and WiFi.
Best to speak to TAS Head Teacher, Chris Webb.
A range of equipment available from the Student Learning Centre that the school has purchased specifically for the CHSC staff and students.
Software for personal devices
As a CHSC staff member, you've been given access to some software to install on your personal computer/device, visit https://doe-nsw.onthehub.com. Includes Microsoft Office and Adobe Creative Cloud
What resources a casual staff member can access is up to the Coffs Harbour Senior College. We advise you to talk to Vice Principal, David Bateman.
For