How do I login to SCU Email?
This guide provides you with instructions on how to log into your SCU email.
Your SCU Email is a formal point of contact with the University so it's important to check it regularly. (It's also how you can access lots of other Microsoft products the University provides for your use.)
Your email address follows the format: <first initial of your first name>.<full surname>.<the 2-digit number at the end of your MySCU username>@student.scu.edu.au
For example, if your name is Harry Johnston and your MySCU username is hjohns32, your email address would be h.johnston.32@student.scu.edu.au
More information here: How do I find my email address?
Step 1: To log in to your SCU Email, go to the https://email.scu.edu.au
Step 2: Unless you're already currently logged in to another SCU app, you will be taken to the login portal.
Enter your full SCU email address and SCU password.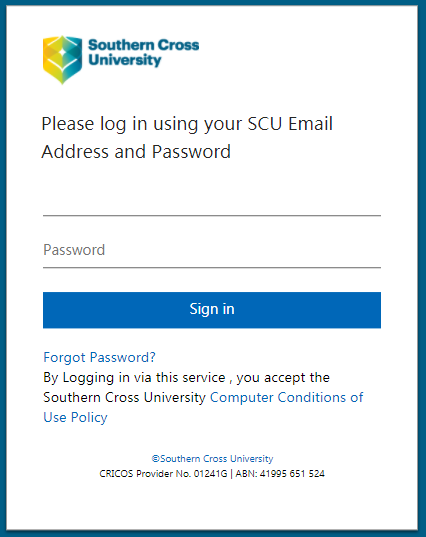 Step 3: Once you've logged in you'll be taken to your SCU email in Microsoft O365