Setting up a Blackboard assignment
Blackboard assignments are suitable for the submission of non-written assessment tasks such as Excel spreadsheets, graphics files, HTML files, or zipped portfolio archives. The following article discusses the use of Blackboard assignments for student assessment.
Before you begin
Please take note of the following important considerations when using Blackboard assignments.
Policy requirements for written assessment
All written assignments must be submitted through Turnitin in order to meet the University's Academic Integrity Framework and Assessment, Teaching, and Learning Procedures: "(38) All written assessments are submitted through Turnitin, and similarity reports reviewed by the marker prior to grading".
Where a Blackboard assignment is used for submitting written work, a second submission portal that uses Turnitin will be required. This ensures that Turnitin similarity reports are generated for student work.
Submitting video assignments
Although Blackboard assignments do support video files, students need to be made aware that no progress bar is displayed during the submission process. Where large video files are submitted there is a possibility that the files may exceed the size limits of Blackboard assignments (2GB). Large files may also exceed the limits of an internet connection, or a student may not be aware that a file has not been successfully submitted. Students should be encouraged to use Handbrake to compress video files before submission to reduce the possibility of these issues occurring.

A strongly recommended alternative for the submission of video assessments is VoiceThread assignments. VoiceThread supports a variety of video formats, recording capability, and playback and authoring features. Students are able to view their video once uploaded to ensure submission has successfully completed.
Using Blackboard rubrics with Blackboard assignments
When using Blackboard rubrics it is important to understand how the Blackboard Assignment grade centre column option Show Rubric to Students functions. If the option is not set to Yes (With Rubric Scores) students are unable to view the rubric scores and the provided feedback. It is not possible to show only the feedback; the scores must be shown as well. This is by design and ensures transparency around rubric grading.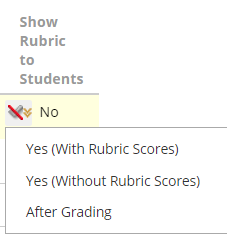 Please note that whilst you are able to make edits to a Blackboard assignment after it has been created, rubrics cannot be changed after marking has started - without losing any previously graded results.
Steps to create a Blackboard assignment
Setting up a Blackboard assignment is relatively straightforward.
Start by logging into the unit learning site in MySCU.
Locate the Assessment Tasks and Submission area, from the site menu on the left side of the screen.
Open an existing assessment folder, or create a new folder to contain the Blackboard assignment link and task instructions.
Inside this folder, click on Assessments and choose Assignment.

Enter a Name for the assignment and provide Instructions for submitting the assignment (attach a task sheet if you wish).

Check the due date is set correctly.

Under the Grading heading, ensure that the Points Possible is set to the assessment weighting for the unit. In order to grade a Blackboard assignment, you will need to attach a Blackboard Rubric to the task. Also verify that the Submission Details, Grading Options and Display of Grades drop-down areas are set correctly by clicking on each.

If you are ready to publish the assignment to students, tick the Make the Assignment Available box and click Submit. Otherwise, you can choose when to make the assignment available.
Video walkthrough
The following video covers the end-to-end process of setting up a Blackboard assignment.
The student submission process for a Blackboard assignment
Once your Blackboard assignment is set up students are able to submit their work.
Students navigate to the folder you created for the assignment and click on the Blackboard Assignment link to access the submission page.
Students click on Browse My Computer to find the file for submission (alternatively they can access cloud service providers if they use one).
Students click on Submit to submit the file.

The Blackboard assignment submission page


Students can now review the file that they have submitted. After the work has been graded they will see the results and feedback on this page as well.

A submitted student Blackboard assignment
More articles about Blackboard assignments
---
(Please note - it's better to refer to the Online version rather than export, as it's always up to date)