Releasing Feedback to Students via Turnitin
Releasing grades and feedback in Turnitin is a two step process:
1. In Turnitin
Feedback Release Date
Students can view their rubric and feedback AFTER the Feedback Release Date has passed.
Update the default to ensure it is after you expect to be ready for Students to view feedback, or feedback will be immediately visible while you are still marking.
You can come back and edit this option if you are ready to release feedback earlier.
To change the feedback release date:
To edit the

Feedback Release Date, select the assignment link to launch the assignment inbox.



Select the

Settings cog

to edit your assignment by opening up the menu in the top right-hand side of the screen.



Check the Feedback Release Date

on the right hand side.

If you are ready to release grades and feedback, set this option to be the current date and time.

2. In the Grade Centre
In the Grade Centre, make the assessment column visible by selecting "hide from students (on/off)".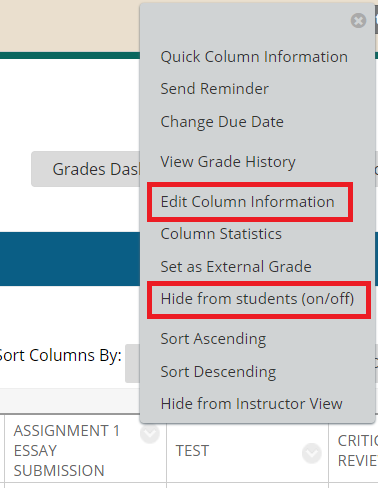 This will make the column visible in My Grades.