By default, your Zoom account is enabled to have Live Transcriptions during your meetings. To enable this, follow the details outlined below:
Once your meeting has started, click on the Live Transcript button in your Zoom toolbar (along the bottom) then click on Enable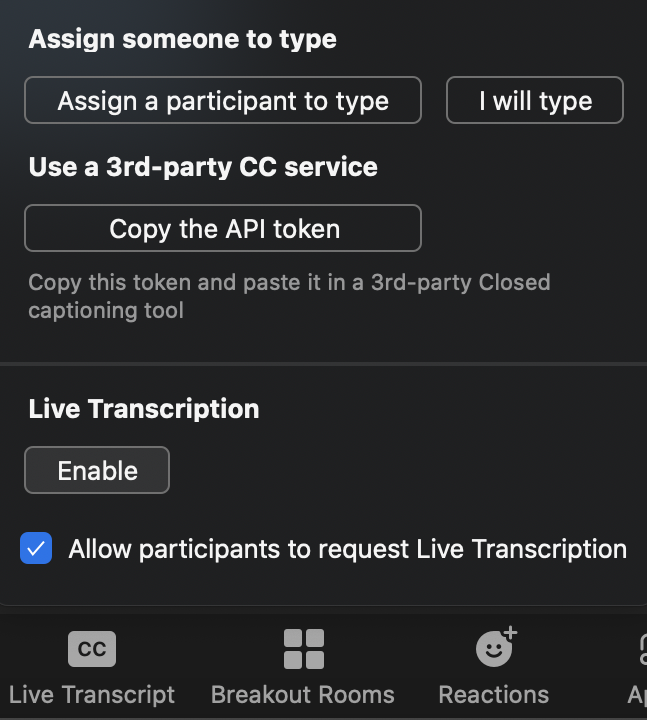 NB
Tick the check box to allow participants to request a copy of the transcription
A notice will pop up informing you that Live Transcription has been enabled (clicking on the Who can see this transcript? button notifies you of the settings for the transcript)

Now that live transcriptions have been enabled, you will see this just above the Zoom toolbar

Participant requests to enable live transcription
Participants of your meetings and webinars can also request to have live transcription enabled during the session. This option is available in the meeting controls, and avoids the need to request this verbally or through chat to avoid interruptions.
Start a meeting or webinar as the host

When a participant or attendee requests live transcription be enabled, you will be prompted with the request

This request can be made anonymously, so you may not see the name of the participant requesting this feature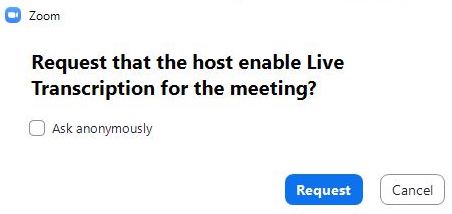 Choose one of the following options:

Enable: Enables live transcription for use of anyone in the meeting or webinar
Decline: Decline this request to have live transcription enabled. Other participants will be able to make their own requests
Decline and don't ask again: Decline this and all future requests to have live transcription enabled