Why can't I login to my email?
If you are having troubles logging into your emails, it could be for one of a few reasons. The possible problems and their symptoms are:
Q. I'm receiving an "ID3034: Authentication failed" error
A.
This error means that the username or password is incorrect.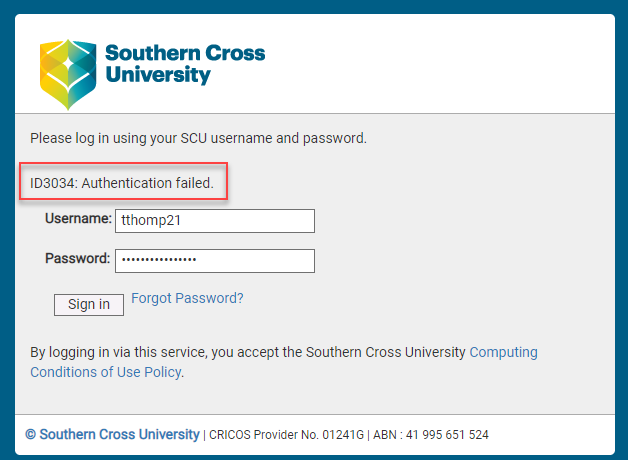 Please use your full email address
Students: if you don't know your username or email address, please refer to this guide: How do I find my SCU username and SCU email address?
Q. It's asking for More information required...
Q. I'm receiving a "Something went wrong :-(" error
A.
This may be the result of corrupted browser cache, stopping the page from loading correctly. Please follow this guide on how to clear your browser's cache.
If clearing the cache doesn't work, please contact the Service Desk to determine the exact cause of the error.
Q. My email address and password disappear, and the screen reloads
A.
This is generally caused by corrupted cache in your web browser, and can be resolved by clearing the cache. Please follow
this guide
on how to clear your browser's cache.
Q. The page is redirecting me to an Outlook login screen
A.
Occasionally when you try to login to SCU's email system, it will direct you to login again at the Outlook login screen (shown below). This means you need to direct your browser back to SCU's email system.
To do this, you'll just need to manually type in the following address into the web address bar at the top of the browser: http://email.scu.edu.au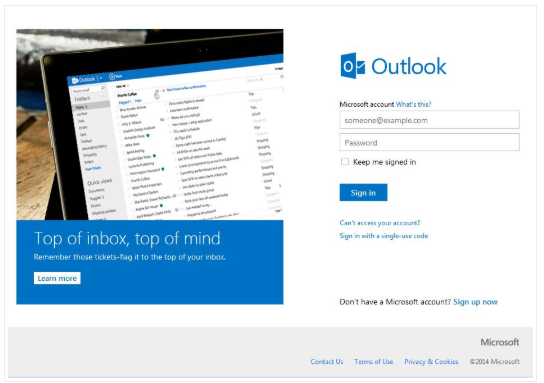 Q. I'm being redirected to my other email account
A.
If you have an email account with Microsoft Live, Hotmail, or if you are a cross-institutional student with a university that also uses Microsoft's email system, you may be being redirected to your other email account when trying to login to your SCU emails.
This is because all of these email accounts use the same system: the Outlook Web App, provided by Microsoft.
Quite possibly your browser has stored your login details for your alternative account, and is automatically logging you in to the wrong account.
To fix this, you can clear the cache in your web browser in order to make it forget the login details to your other account.
If you do not wish to do this, you will need to use a different web browser for each email account. You can download an alternate web browser for free, such as Mozilla Firefox or Google Chrome