As per the details found on https://marketplace.zoom.us/apps/cXw5IXmqT6SIIBQxgM_PfQ, the Timer App features a sleek countdown animation and a water-like alarm when the time is up.
It is perfect for keeping meetings on track, time-based tasks, and even on-Zoom group meditation.
Start the timer with either of the ready made time lengths: 5 min, 10 min, 15 min, 20 min, 25 min, and 30 min or customize the timer with your own custom length up to 100 minutes.
Visualize the current time in the middle of the screen as the timer is counting down.

The timer app can be started from within a Zoom meeting and from the Zoom Apps Tab in the Zoom Client.
Click on the Apps button in your Zoom Client, this will open the Apps side bar

Click on the Timer App from the My Apps list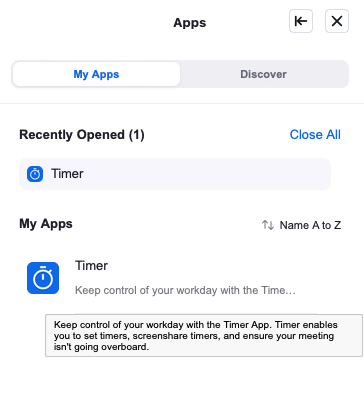 The Timer App will now load in the side bar, simply set the time required for your meeting and start the Timer when ready

Below are some screenshots for your information