Software Conferencing & Collaboration Tools In Lecture Theatre Spaces
Some teaching spaces are enabled for self service use of software based digital conferencing, collaboration and video streaming applications
using the presenter/teaching PC. (Zoom, MS Teams, Collaborate).
These rooms are equipped with Cameras and Microphones that are connected to the presenter/teaching PC for use with common software collaboration applications.
This allows familiar desktop workflow with collaboration platforms in the teaching space.
Step 1: Locate the rooms AV control Touch Panel and Select Camera Controls button.
Step 2: Select the the camera you would like to use (most rooms have a choice of 'Lectern' facing camera and 'Audience' Facing Camera
Step 3: Move the camera using the provided button controls
Step 4: Zoom the camera in/out using the provided button controls
Microphone Mute/Unmute (Zoom / Teams / Collaboration)
Use Microphone Mute/Unmute via the software application mute controls within the relevant application you are using (Zoom , Teams, Collaborate etc).
Microphone mute/unmute and volume controls located on the AV touch panel only Control what you hear in the room only.
Recording in Software Applications (Zoom / Teams / Collaborate)
Please move all locally stored recordings to personal removable storage (USB Drives) or organisational cloud storage.
These computers maybe re-imaged (formatted) at any time. Local storage of content is not guaranteed.
Ensure Correct Video Camera & Microphone Device are selected within the software application being utilised.
Microphone device to use: "Analog (USB Capture AIO Analog)"
Camera Device to use: "USB Capture AIO"
Example - Zoom
Microphone Device : "Analog USB Capture AIO Analog"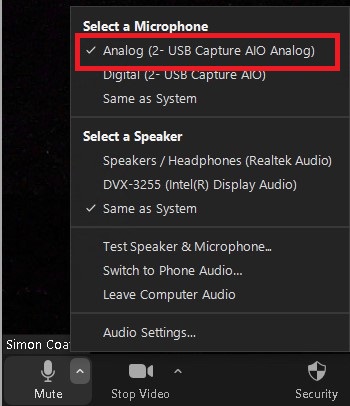 Camera Device : "USB Capture AIO"