TextAid is prompting me to login
This article provides troubleshooting for when TextAid is asking you to log in
Occasionally when trying to access the TextAid function within Blackboard from certain devices and operating systems, you may be prompted to login in order to use the service. The issue occurs primarily on Apple computers and mobile devices, particularly those using the Safari web browser.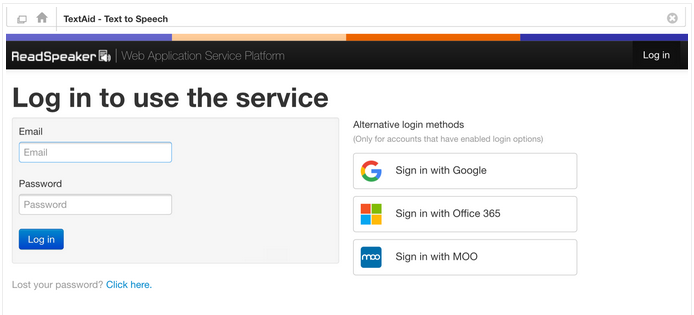 Have you enabled your TextAid account. Please refer to these instruction: How to enable and access TextAid from your Blackboard site
Have you tried a different web browser. Does the same thing happen? If you're on an Apple Mac, try using Google Chrome which is the preferred browser for Blackboard.
If none of the about point work, try the following workaround
When you're taken to the login screen, opening a new tab in your web browser
In the new tab, paste in the following URL: https://ws.readspeaker.com/a/wasp/app/8

This should bypass the login page and take you directly to the TextAid screen.