This document will guide you on:
Before you publish a H5P
It is critical to be aware that H5P is currently not suited for examination purposes as it is possible for students to cheat. This may be fixed in future revisions of the software, in which case this page will be updated.
Prevent student sharing and copying
Before you publish a H5P for student use, it is important to turn off the options to Allow users to Download the content and the Display Embed button as these allow students access to your H5P file. The easiest way to do this is to uncheck the Toolbar Below Content option. These options are located under the Display Options of H5P which are located at the bottom of the H5P authoring screen.
Turning off the toolbar:

Naming a H5P
It is highly recommended you use a suitable naming convention to title all the H5P interactives you create. This will assist you to find and share your H5Ps with others in the future and for support. It is currently not possible to search for a H5P by author, so titles are critically important. For any unit related H5P interactive, a good naming convention to use is 'unitcode_m0X_act0X', e.g. STYL1001_m01_act1_1.


You can add a short description if you like, e.g. STYL1001_m01_act1_1_d&d

Adding Metadata
If you intend to share the H5P with others in the future, it is useful to add Metadata information.
Click the Metadata tag

near the H5P title to open the Metadata screen. From this screen you can add the license information, data source, author details, and other license information.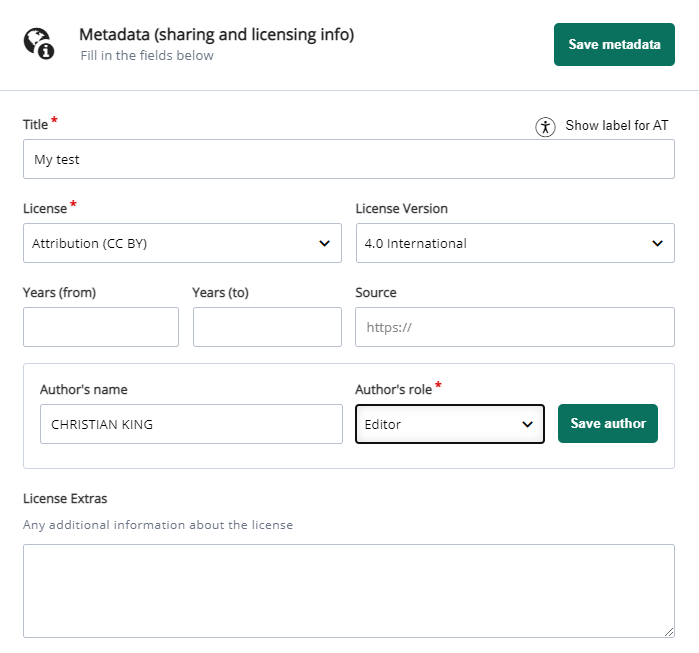 Publishing a H5P to a Blackboard item
After you finish creating a H5P interactive, you can add this to an item in your Blackboard (Bb) learning site. This is the preferred method for adding H5P to a learning site for students. It provides a handy report of student achievement for graded H5P interactives, and an edit button which makes it easier to make quick changes later.
Insert item
On the Bb page where you wish to place the H5P, choose Build Content > Create > Item.




Add H5P content
Enter a name for your item and then click on the + Plus button (circled in red below).



Click on Additional Tools > Add H5P Content.

Locate the H5P
If you have named your H5P well, you can just type this name into the Search My Content box. Otherwise, find it from the list of H5Ps (sort by Last Modified to find recent edits).



A preview of the H5P appears. Click on the Insert button to add the H5P to the Bb item.

Add any text or instructions for students to the item if needed. When you are finished click on the Submit button to save the Bb item.


Sharing a public H5P link
It is also possible to create a public HTML weblink to a H5P that can be accessed by anyone. Under the Publish settings choose Public and then External link. This link will be copied to the clipboard and can be pasted to websites and to emails for sharing with others.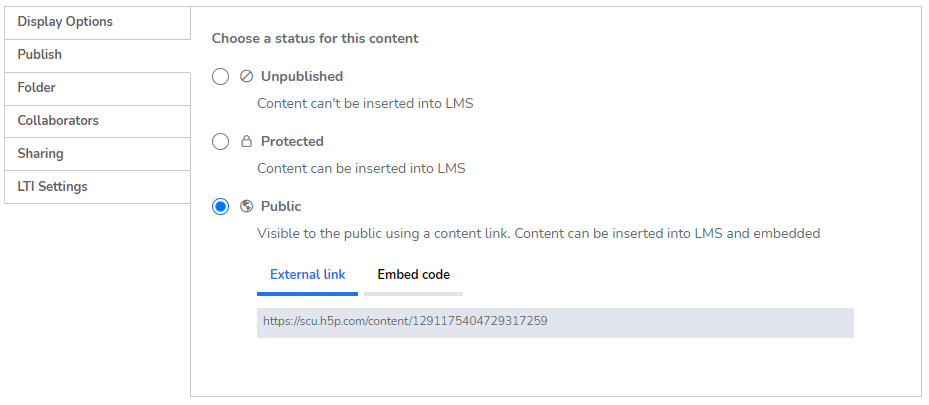 Ensure you save
You must click the Save button for the changes in permission to be applied to a H5P. Note that any user with this link is able to access the H5P without requiring a login.



---
(Please note - it's better to refer to the Online version rather than export, as it's always up to date)