Create interactive content with H5P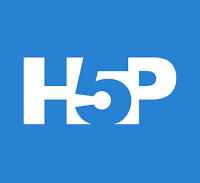 What is H5P?
H5P is a collection of HTML5 tools that facilitates the creation of easy-to-use, engaging and responsive interactive digital experiences. A H5P file consists of HTML5 files packaged together to create a specific interactive. H5P files can be downloaded, shared or 'remixed' by other users.
Please view the short H5P presentation below to learn more about H5P (adapted from H5P.org).
Why use H5P?
H5P does not require a specialised team of developers or designers, and anyone can create H5P interactives with basic training. Adding interactive components to unit materials is an effective way to engage students in meaningful interactions. These interactions help students to engage with the content and facilitate deeper learning outcomes. The inclusion of these types of interactions can also contribute to students proactively seeking out and engaging with unit material on a more regular basis. Interactives can also provide valuable and timely feedback to students, ensuring that they are able to understand and apply concepts. For the academic, H5P can provide detailed reporting on students' progress in H5P over time and facilitate collaborative development of interactive content.
How do I learn more about using H5P?
Your Centre for Teaching & Learning support team can suggest ways to incorporate H5P into your teaching practice. In addition, the following range of Knowledge Base H5P articles provides training in the use and application of H5P.
Accessibility
For information regarding H5P content types and accessibility please visit https://h5p.org/documentation/installation/content-type-accessibility
Support resources

Adapted from https://app.griffith.edu.au/exlnt/entry/8769/view under a Creative Commons Attribution-NonCommercial International License (CC BY-NC 4.0).
---
(Please note - it's better to refer to the Online version rather than export, as it's always up to date)