Build an online community with VoiceThread
VoiceThread is an asynchronous multimedia presentation and discussion tool for enhancing student engagement. A VoiceThread is a collaborative, multimedia slide show that holds images, PowerPoint presentations, videos, audio files, documents, and PDFs. Academics and students add comments to a Voicethread slide show in 5 ways - using voice (microphone, mobile phone or telephone), text, audio files, or video (via a webcam or mobile phone). Watch the following short video about Voicethread.



This document will guide you on the following:
Why use VoiceThread?
VoiceThread facilitates building presence and community, collaboration, the giving and receiving of feedback and assessment. VoiceThread is also one way to address the feelings of disconnection and isolation (the social presence gap) that may be found in online learning interactions.
Voicethread;
can be used to foster peer-to-peer learning and collaboration.
can be used for discussion around scenarios or topics that need video or image-based media.
can be reused in different courses.
improves student communication, critical listening, watching and response skills.
allows students to view feedback on their responses in context.
Some of the teaching practices that Voicethread supports include;
Learning & Collaboration

Active Learning
Virtual Collaboration/Peer to Peer Support
Respond/comment on video
Student to Student activity: Post, comment and feedback
Community collation of 'collective wisdom' via cumulative postings
Integration with Youtube, Khan Academy & Flickr

Personalised Student Activity

Presentations
Digital Storytelling
Annotation by Students
Student creation of VoiceThreads

Community & Connection

Co-creation, collaboration and sense of community.
Share/Showcase Student videos

Teacher Interaction

Commenting (multiple formats: audio, text, video)
2-way Annotation in-context
Unit orientation videos with discussion enabled

Assessment

VoiceThread 'Assignments' for student presentations
Feedback on provided assessments
Oral Exam performances

Feedback

Formative feedback tool
Feedback on collaborative work
What do I need to use VoiceThread?
Voicethread can be used through a free mobile application or any desktop PC or Mac. You log in to Voicethread using your SCU credentials. When accessing VoiceThread from a Blackboard learning site (MySCU) there is no need to manually login as Voicethread uses a Single Sign-On.
Equipment & Browser compatibility
Video camera (laptop webcam, USB Camera, mobile phone camera, etc.)
Microphone (laptop mic, USB mic or headset, mobile phone mic)
VoiceThread is supported fully by the latest versions of Firefox and Chrome. Learn more about VoiceThread browser requirements
Understanding how VoiceThread works
Voicethread is an asynchronous temporal tool that contains pre-recorded responses in various media formats. This means that students can watch and add to a Voicethread at any time. Because a VoiceThread presentation changes over time, students require direction around navigation, how often to check or contribute to a VoiceThread, and how to use Voicethread effectively. It may take some experimentation before you understand the workflow and can make full use of VoiceThread's features, so make sure that you have enough time set aside to learn, before using VoiceThread with students.
VoiceThread in Blackboard
At Southern Cross University, Voicethread is integrated into the Blackboard (MySCU) LMS. This means that student access to Voicethread is through the Blackboard unit learning sites as links. To create a VoiceThread link within your Bb learning site click on Build Content > Add VoiceThread.
As SCU has an institutional license and VoiceThread is integrated with Blackboard, you should not embed your VoiceThreads.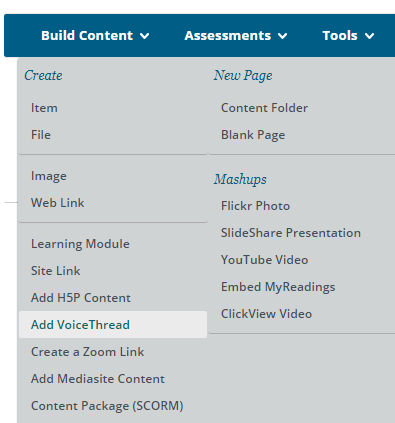 Types of VoiceThreads
You can make two different types of VoiceThread links: graded and ungraded. Graded VoiceThreads are called VoiceThread Assignments. For more information about creating VoiceThread Assignments see Student Presentations with VoiceThread.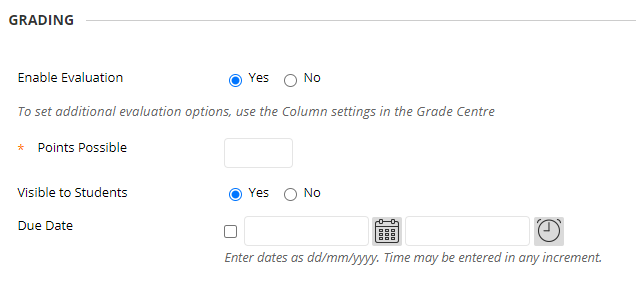 The following video covers how VoiceThread functions within the Blackboard environment.
There are four simple steps to using VoiceThread in your Blackboard courses:
Creating a VoiceThread
Editing a VoiceThread
Interacting with a VoiceThread
---
(Please note - it's better to refer to the Online version rather than export, as it's always up to date)