The following article covers the practical considerations of teaching an online class under the Southern Cross Model, including how technology tools can be used to deliver an online class.
For more information about class teaching under the Southern Cross Model see the following practical guide: Planning for class.
Setting up an online class environment
This section provides simple step-by-step information that will assist in preparing an online class. Preparation is key when delivering online for both Workshops (1 hour) and Tutorials (2 hours). The same is true with face-to-face delivery; however, there are digital elements to consider in online environments that are not present in the physical classroom or lecture theatre.
You will need to ensure you understand:
which platform to use (Zoom or Collaborate),
how to share links to the online class (meetings/sessions) with students,
how to set up your online class (profile pictures, virtual backgrounds, pronouns, etc.).
Choice of software for an online class
Southern Cross University online workshops and tutorials can be scheduled with either Zoom or Blackboard Collaborate Ultra. Both of these tools provide a suitable environment for educational delivery while also supporting student engagement and interactivity through active learning. These tools can be integrated into a Blackboard learning site to provide easy student access. This section discusses the benefits of each platform to assist you in making a decision.
How do I pick Collaborate or Zoom?
It's always a good idea to discuss software choices with your colleagues and other members of your faculty. It's easier for students to succeed in a unit where clear decisions have been made around software platforms and teaching approaches being used. Otherwise, students may be overwhelmed by having to learn to use both Zoom and Collaborate during their studies.
Many universities and educational institutions have adopted Collaborate Ultra as the platform of choice. This may be a valid reason to choose Blackboard Collaborate Ultra over Zoom.
In the fields of business, government, healthcare etc. Zoom is widely used, making it beneficial for students to become familiar with the platform. This may be a valid reason to choose Zoom over Blackboard Collaborate Ultra.
If you have a large class with more than 500 students it is not possible to use Blackboard Collaborate Ultra. This may be a valid reason to choose Zoom over Blackboard Collaborate Ultra.
If you have a large class with between 250-500 students, Zoom provides more functionality than Collaborate which would require webinar mode to be enabled. This may be a valid reason to choose Zoom over Blackboard Collaborate Ultra.
What about Microsoft Teams?
Although staff are able to use Microsoft Teams for staff collaboration, Teams is not currently available for students to use as a classroom environment.
The table below provides a brief comparison of some of the differences between Zoom and Blackboard Collaborate Ultra. Both software platforms do share similar functionality so it's not worth getting too concerned about which is the better option unless you are teaching a large class.
Features

Collaborate Ultra: Standard sessions

Collaborate Ultra: Large sessions

Zoom Meetings

Zoom Webinars

Software required

Google Chrome or Mozilla Firefox are recommended but most browsers will work.

Google Chrome or Mozilla Firefox are recommended but most browsers will work.

Zoom Software must be installed and kept up to date.

Zoom Software must be installed and kept up to date.

Bb integration and scheduling

Located inside the standard Blackboard site template. Sessions can be open-ended or recur each week.

Located inside the standard Blackboard site template. Large Sessions cannot be recurring and maximum 24hrs duration.

Manually add Zoom LTI dashboard link to Blackboard. Meetings can recur each week.

Manually add links, no Blackboard LTI support. Large Webinars cannot be recurring or open-ended.

Recordings

Automatically generated, automatically become available on Blackboard within 24 hours. Can be downloaded by students.

Automatically generated, automatically become available on Blackboard within 24 hours. Can be downloaded by students.

Cloud Recordings will automatically appear in the Zoom LTI dashboard in Blackboard (deleted after 180 days). Local Recordings need to be manually uploaded and shared by the instructor.

Any recordings need to be manually shared by the instructor. Cloud recordings are deleted after 180 days.

Capture student attendance

Yes, through Collaborate reports

Yes, through Collaborate reports

Yes, through Zoom reports

Yes, through Zoom Webinar reports

Breakout Groups/Rooms

Yes, but stops the main room recording

No

Yes (must be enabled in settings first), can also record breakout rooms

No

Support for large classes

Max 250 students.

More than 250 students

Standard Collaborate Ultra sessions do not support more than 250 students, the larger the class the more likely issues will develop with connections.

Max 500 students.

Limited interactivity

Large classes provide a limited experience with no breakout groups. You must enable large classes in Collaborate session settings. Settings are also automatically disabled for chat, webcam, voice, and whiteboards at the start of the session.

Max 1000 students with a large class license.

More than 500 students

You must request a Zoom license for large classes through Technology services. A maximum of 1000 students is supported in a large class. You are encouraged to use co-hosts to help manage large Zoom classes.

Mobile Support

Yes, works in a mobile browser

Yes, works in a mobile browser

Yes, Zoom App must be installed

Yes, Zoom App must be installed

Polling

Yes

Yes

Yes, and Quizzes are also supported

Polls, Surveys and Q&A supported

Share files (PowerPoint, PDF)

Yes, integrated File Share or Application Share (PowerPoints must be converted to PDF to maintain formatting)

Presenter or moderator only, students need to be promoted.

Powerpoint via screen sharing, in meeting file sharing (limited)

Host and Co-Host only, students need to be promoted.

Whiteboard

Yes, can't be recorded or exported. Can't draw on mobile devices.

Presenter only, students cannot draw on or use whiteboards.

Yes, can be saved as a file.

Yes, can be saved as a file, students cannot draw on the whiteboard.
Getting started with Zoom or Collaborate
If you are interested in learning to use Zoom or Collaborate for teaching an online class the following supporting articles are available to support you.
Presenting professionally online
Both Zoom and Collaborate feature profile photos which helps students to identify you. Ensure that you choose an appropriate photo that provides a professional and presentable image. Setup your environment ahead of time and experiment with settings for the best results. Check your camera framing and position and the lighting in the room.

Framing
Position your body for a head and shoulders shot. You can use a 3x3 grid and place your eyes centred on the top line.

Camera placement
Make sure your webcam is at eye level or slightly above to avoid unsightly distortion. A box or a stack of textbooks can quickly help you adjust laptop height.

Lighting
Consider the lighting in the room to ensure you look presentable. A lampshade or window creates fill light. A desklamp creates a main light that you can adjust. Alternatively, find a sunny window that provides natural light.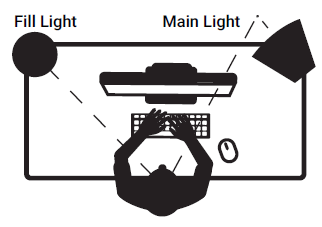 Check your background
Don't forget to clean up any clutter in the background! If you are using Zoom you can use a virtual background to hide the room.
Managing an online class
This section provides guidance on the management of inline classes including managing and engaging participants, and the use of recording tools for Workshops and Tutorials.
Start out by establishing the expectations of students from the outset. This will ensure students are aware of what is expected of them in the online class and make managing things so much easier. How will they interact? When and how should they use the chat? Are webcams expected to be on? Do they know how to mute their microphone and follow appropriate netiquette? Also carefully consider how you will provide stability, inclusivity, safety, security, and support to students in the online class.
Often, the importance of managing an online class is only learned after a bad class experience. However, there are things you can do ahead of time to prepare for things that may go wrong. Make sure that you establish a course of action ahead of time, so that you have a way forward should the worst happen.
"Failing To Prepare Is Preparing To Fail" — Benjamin Franklin
Strategies to use
The following strategies can assist in planning and facilitating a better online class experience for all students.
Strategy

Benefits

How to achieve this?

Set Expectations

Can help students navigate the online class, enhance learning outcomes and provide a more enjoyable experience for everyone

Establish rules in the classroom (e.g. Netiquette)
Ask students to participate explicitly and clearly
Ask students to provide input to a list of class expectations

Manage Conversations

Keep students on track and prevent off-topic or inappropriate conversations from developing

Disable the chat
Use Focus mode (Zoom Only)
Mute students and redirect the class to another activity

Supporting Roles

Students establish a better sense of autonomy and ownership for their role in the class. The instructor has less to manage by themselves.

Use breakout groups/rooms for students to work in groups with assigned roles (scribe, leader, contributor, reporter, etc.)
Have a student moderate the chat and summarise comments for further discussion with the wider group.
Have a guest present to the group

Pre-flight check settings
Less time spent in class (and less stress) trying to change the live online environment.

Turn on automatic recording (so you don't forget)
Encourage student participation by setting defaults for video to 'on'
Preload your slides and ensure they display correctly (Collaborate)
Create Polls or Quizzes ahead of time (Zoom)
Have a plan B communicated to students (just in case the internet drops out)

Behaviour Management
Supports an

environment free from bullying, harassment, vilification and discrimination which is more inclusive for all

students.

Ensure students understand responsible class behaviour (see the harassment, bullying and discrimination policy)
Ensure you know how to disable the chat, mute students
If a student's behaviour breaches policy, remove them from the meeting/session
Engagement and Interaction with Students in Class
Long gone are the days of "chalk and talk" or "sage on the stage". Instead, students can be better supported with online classes that use activities that provide multiple opportunities for students to learn and engage with unit content.
With all due respect to the content-related challenges of [tertiary education], a teacher's job is not to simply mention everything in a book or on a topic; our job is to prioritize, make interesting and useful, and 'uncover' the content, not merely 'cover' it. (McTighe & Wiggins, 2011, p.9)
Online classrooms can facilitate engagement and interaction in new and exciting ways using a range of tools. Don't just share a screen, allow participants to annotate, collaborate, query, and elaborate. Foster an engaging environment that leaves students wanting more. Engagement and interaction encourage students to attend and participate in Workshops and Tutorials, as opposed to simply watching the recordings. Encourage students to use interactive tools as an online alternative to monitoring class body language. For example, Zoom reactions and Collaborate feedback buttons gauge and quickly assess student understanding. Use Polls to gauge opinions, or as precursors (with no right or wrong answers) to Quizzes, where formative feedback reinforces the right and wrong answers. Use Breakout room functionality (detailed below) to create smaller collaborative groups that foster Active Learning.
'Active learning takes time in every session. Don't waste valuable time with content. Use it to empower students to show what they know and most importantly where the gaps are' Steve Rowe, School of Business & Tourism, SCU.
One of the most powerful yet simple approaches to support student engagement and interaction during classes is to use the Pause Procedure. This approach integrates pauses at strategic times during class, providing opportunities to stimulate and assist students to comprehend and process unit material. Planned pauses are a quick and easy way for students to review what they have learned and clarify any confusion before moving on to new topics.
Breakout Groups/Rooms
Breakout Groups are available Collaborate Ultra and Breakout Rooms are available in Zoom. Both of these tools allow for large classes to be split into smaller groups to facilitate group work activities. In breakout groups/rooms, students are asked to work together to achieve a task set by the instructor, supporting students to develop their own teamwork, management and self-efficacy skills.
An example of small groups could involve 40 tutorial students being split into 10 Breakout Rooms with four students in each. Instructions are given to the group to elect a scribe, a proponent, a "devil's advocate", and a post-discussion presenter, with 10-15 minutes of discussion to create a two-minute summary for delivery upon return to the main cohort. Provided with clear instruction, students may come to their own understanding of course content, having collaboratively engaged in analysis, synthesis, and evaluation, effectively moving from lower order thinking skills (LOTS) towards higher order thinking skills (HOTS) (Herna, Eko & Kustoro 2019).
Another example involves 1000 students placed into 200 Breakout Rooms leaving five people per room. By giving prior instruction to participants to choose a topic, outline a plan, summarise a theory, compare ideas, predict an outcome, or persuade an audience, the HOTS of Bloom's taxonomy are employed and learning/acquisition of knowledge takes place. Such engagement can be a further incentive for students to actually attend Workshops and Tutorials as the benefit of collaboration becomes apparent if only watching the recordings after the fact. An Academic's consolidation of content after the closure of the Breakout Rooms can tie everything together, ensuring that groups who may have missed the point can get back on track.
Giving clear instructions prior to sending students to Breakout rooms is important, for example. Some participants may not have used Zoom or Collaborate before and this may be their first time experiencing the jump from the main room to a breakout group/room. You will need to think about how many students per group? How many groups? How long do students have? What's the first thing students need to do when they join the rooms? What will they do when students return to the main room? In a tutorial, for instance, you could explain the process:
We have 35 people here today, so I am going to place you into seven groups with five people in each group. I have randomly assigned you to groups, and I'll give you 10 minutes to discuss the question I have provided. I will continue to screen share this question to your group for reference. Once you join the rooms introduce yourself, and then allocate a scribe to take notes, and a presenter to deliver your thoughts at the end.

When I "open the rooms/groups" in a moment, you will all move automatically, but you can use the "Teacher help" button (Zoom) or main chat if you require assistance – Great, off you go!
Teaching strategies for breakout groups/rooms to facilitate active learning
| | |
| --- | --- |
| Brainstorming | Use the group as a way for the team to brainstorm a question or an idea so they have a working format of how they will address it. This is a good starting point for any group work. |
| Research | Use the breakout groups for students to find articles and share them. They can use this space to answer a specific question that requires answers backed by references. |
| Discussions | Use the breakout group's chat as a place for students to share their opinions or views on specific topics or issues. They can then come up with two or three things they will bring back to the main room to share. In the screenshots below students use Collaborate Ultra to share comments about an article. |
| Problem-solving | Provide students with a slide with a problem on it that they need to solve. It can be mathematical, technical or hands-on. Ask them to come up with a solution that will then be presented back to the class. In the screenshot below, students use Collaborate Ultra to share written ideas on a whiteboard. |
Supporting Accessibility
Live Transcripts and Closed Captions are of great value to people with hearing impairments. Zoom supports automatic live closed captioning, however, Blackboard Collaborate Ultra requires a captioner to manually transcribe.
Providing clear instructions and concept checking questions used throughout sessions, along with guidelines on using or restricting the Chat feature is of great value to people with visual impairments.
Post-delivery of an online class
Recording workshops and tutorials provide an opportunity for students to revisit what was covered at a later time, whether they were present for the live class or were unable to attend.
Blackboard Collaborate provides integrated recording storage which is automatically be added to the unit learning site.
Zoom supports cloud recording capability, and links to recordings (or the recordings themselves) can either be uploaded to Mediasite and then placed in the unit learning site, or the Zoom LTI can be used to provide access to the recordings.
Both Zoom and Collaborate also feature attendance reports. These reports are especially useful when liaising with students after Workshops and Tutorials and can be used to track student attendance.
Is it critical that students attend every online class?
Student attendance is not everything, and it doesn't mean that students aren't learning. Consider that there may be very valid reasons why students can't attend and the recording provides access to students who may have not been able to study otherwise.
Class recordings still provide a valuable means for students to engage with the content when they want and how often they want. Student discussion forums that feed student questions into the live classes aren't always essential to student learning either. It is also possible to monitor if students are engaging in other ways, using Eesysoft reports or the Blackboard performance dashboard. Don't make the flexibility of online learning inflexible.
If you are concerned about attendance, consider ways that make it worthwhile to come to class. This could include:
providing interesting content not available on the Blackboard site
providing stimulating and engaging activities that are best experienced synchronously (by being there with you)
thinking about what you bring to the experience because

you

are the drawcard for these sessions
providing opportunities in class for students to ask their burning questions
While some students may still be unable to attend workshops or tutorials, by helping them to see the value in their attendance they are more likely to engage with the live classroom.
Quick tips for online classes
The following quick tips provide further ideas for managing online classes.
Advice for staff new to teaching online classes
Get out of the way!
Step out of the students' learning space by looking for opportunities to get the students active in the session, whether through discussion or other activities.
Use session recordings for professional development.
Reflect on how you could improve and adapt your approaches. Ask a work colleague to review the recording, as a form of peer review after you have undertaken a self-review.
Use whiteboard tools for guiding students through a slide or other content.
For example, use a pointer, or use a white box (on a white slide) to reveal the content as you speak.
Harness the poll tool.
Student polls break up the presentation, keep students active and test their understanding.
Leverage the 'silent majority' through the chat area.
'Pausing' the session to address student questions and comments in the chat area gives everyone time to reflect on content. Silence is okay. Aim to make students' contributions central to the session, while addressing areas of difficulty.
Encouraging student participation in online classes
Use the chat area to personalise the learning experience.
Using audio and chat simultaneously allows a broader range of contributions in far less time than waiting for all to speak.

Right-clicking on a whiteboard object shows you which student created it.

Demonstrate the value of student contributions by referring to specific contributions, highlighting differences and similarities.

Cut and paste important student contributions from the chat area to the whiteboard as the basis for further student activity.
Use the polling tool
Harness any similarities and differences in polling results as a basis for group discussion.

Publishing poll results to the whiteboard provides an enduring artefact for group discussion. The same poll may be repeated after a group discussion to discuss how results have changed.

Decide whether it is appropriate to set the poll so students cannot initially see the responses of others.

Polls provide a quick way to gauge student understanding on a topic being discussed.
Remember the asynchronous dimension of online learning
Where appropriate, include instructions for students who are watching the recording. They are really additional silent members of the room.
Student attendance issues in an online class
Student attendance is not everything.
Session recordings provide a valuable means for students to engage with the content. This is also the case for student discussion forums that feed student questions into the live sessions. Don't make flexibility inflexible.
Add value for student attendance.
For example, only provide PowerPoint slides via the live session or the recording (as a download).
Remember to take advantage of those students who are attending, as their questions are often important for those students watching the recording.
References
V. Herna, N. Eko & B. Kustoro. (2019). The Effect of Learning Strategy and Thinking Ability on The Students' Learning Outcomes in Economics Subject of XI Social Students in Senior High School State 1 in Pematang Siantar. Budapest International Research and Critics in Linguistics and Education (BirLE) Journal. 2. 451-460. 10.33258/birle.v2i4.543.
Wiggins, G., & McTighe, J. (2011). The understanding by design guide to creating high-quality units. Association for Supervision & Curriculum Development (ASCD).
---
(Please note - it's better to refer to the Online version rather than export, as it's always up to date)