Create interactive content with H5P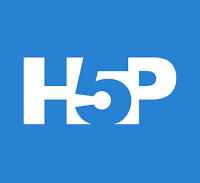 H5P (HTML5 Package) is a collection of HTML5 tools that allows for easy-to-use, engaging and responsive interaction creation. Without the need for a development team or designers, anyone can create interactions such as:
Accordion content
Image Hotspots
Flip cards
Drag and drop interactions
Memory games
Content presentation tools include:
Virtual Tours
Branching Scenarios
Image sliders
Interactive video overlays for YouTube embeds
Adding interactive components to unit materials is an effective way to engage your user in a meaningful interaction. This interaction can help students to engage with the content and create deeper learning outcomes. The inclusion of these types of interactions can also contribute to students proactively seeking out and engaging with unit material on a more regular basis.
Your Centre for Teaching & Learning support team can suggest ways to incorporate HP5 into your teaching practice.
Support Resources
HP5 Website - Official HP5 site for all things HP5. Here you will find examples and documentation. This is H5P's .org site. Content to be deployed in Blackboard should not be developed here.

Adapted from https://app.griffith.edu.au/exlnt/entry/8769/view under a Creative Commons Attribution-NonCommercial International License (CC BY-NC 4.0).
---
(Please note - it's better to refer to the Online version rather than export, as it's always up to date)